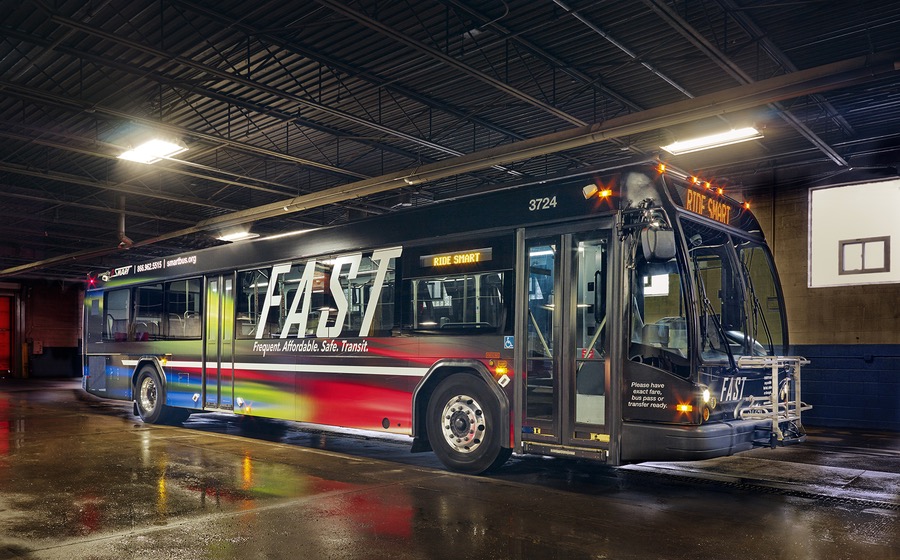 Ferndale Pride Parking & Shuttle Service–MASKS REQUIRED ON ALL SMART TRANSPORTATION
Park at these locations:
Ferndale High School – 881 Pinecrest Dr.
Gerry Kulick Community Center – 1201 Livernois
SMART shuttles run from 1:00 PM-10:00 PM every 10 minutes
Parking is free at these locations, so make the SMART parking choice! This service is open to ALL drivers, riders, cyclists, walkers. Buses and shuttles are equipped with ramps and are accessible!
RIDE the SMART FAST BUS on Woodward
Keep your Pride celebrations SMART and simple. SMART FAST is an easy and affordable solution.
Stopping at Woodward and 9 Mile, this service takes you right to Ferndale Pride.
SMART also offers local routes that drop off at Woodward so you can ride the SMART FAST bus.
RIDE the SMART BUS on 9 Mile
SMART's also offers a "710 Nine Mile Crosstown" option that stops in downtown Ferndale. The route travels East and West along 9 Mile.
PLAN your trip with SMART
Check out the SMART website smartbus.org for the Trip Planner. Using this tool, enter your pick-up location and destination and let SMART plan your route step by step!
RIDE-SHARE Drop off and Pick Up Locations
W. Troy Street – behind Candlewick Shoppe
Alley between Withington Lot and W. Nine Mile behind Pop's for Italian
Withington Street – just north of Inyo Restaurant & Lounge.
Park Downtown
You're headed to downtown Ferndale—awesome! Now, where and how to park? We're here to help you find a space quickly and easily so you can enjoy your visit. Click here to get parking information: https://www.parkferndale.com/resources/visitors-downtown-parking.
Bike to Pride
Park your bike in the new bike lot located just past the rock wall. Metropolis Cycles will park and watch your bike during the event!